AMANARI, TANJUNG TUAN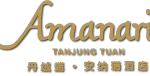 We are proud to introduce exciting investment oppurtunties abroad. Tian Hong Holdings are offering a spectacular investment sales off plan sea view apartments in the Island of Amanari, Kuala Lumpur. These stunning apartments form part of a hotel suite located in Tanjung Tuan on Port Dickson Bay.
We have an excellent team of professional financial advisors and mortgage brokers to advise and guide you on international sales and investments.
These apartments can be purchased as a non resident via a mortgage with the Bank of China or UOB (Bank of Singapore) with 70% mortgage and 10% discount on early bird rebate.
Please view our sales brochure below for more details, contact us if you would like to speak to our team of advisors or if you would like us to send you details of our next sales seminar. These off plan apartments will be showcased at the Luxury Property show in West London on the 4th and 5th November, for more details please contact us.